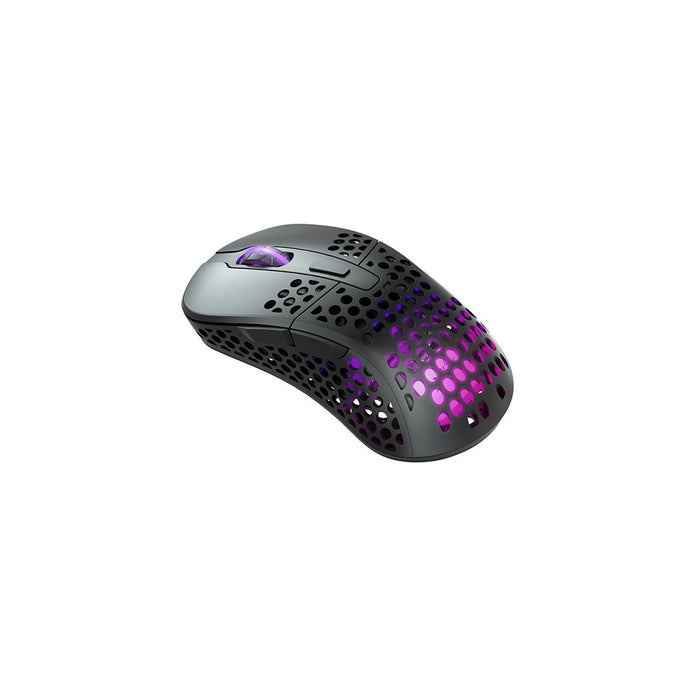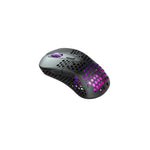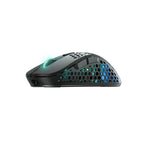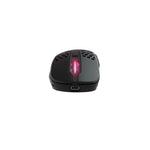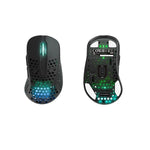 Xtrfy M4 Wireless - Black
Original price
$124.99 CAD
-
Original price
$124.99 CAD
$124.99 CAD
-
$124.99 CAD
Current price
$124.99 CAD
Availability:
Only 4 left!
The Xtrfy M4 Wireless maintains the same lightweight construction, state-of-the-art components, and unique right-handed shape, but now with 2.4 GHz lag-free wireless connectivity. The M4 Wireless takes the performance, feel and durability of a lightweight gaming mouse to the next level.
2.4 GHz Lag-Free Wireless:

 

1 ms response. 1000 Hz Polling Rate. The same speed and responsiveness as the M4 wired version, but now with total freedom of movement.
Adjustable Ergonomic Shape

 

: Go with the original shape of the M4. Or add some extra support for your palm. The M4 Wireless comes with interchangeable parts so you can adjust its size for the perfect grip.
71 Grams With Adjustable Weight Balance:

 

Wireless yet ultra-light. With a construction that lets you tune the weight distribution. Since the center of gravity moves depending on how you hold the mouse, now it is possible to adjust it to your own grip. Move the battery toward the front or the back, and experience a perfectly balanced mouse.
Up To 75 Hours On One Charge:

 

The battery gives you up to 75* hours of playtime. And when it is time to charge, connect the cord and continue playing. The M4 Wireless comes with an Xtrfy EZcord® Pro charging cable, for smooth movements even when the mouse is plugged in. (battery life depends on Hz, lighting on/off and playstyle)
Top-Tier Components: Pixart 3370 sensor for perfect wireless precision. Kailh GM 8.0 switches for 80 million crisp clicks. ARM 32-bit microcontroller for uncompromising speed and stability. The M4 Wireless is built to perform.
Grip and Feel: The M4 Wireless glides smoothly on 100% PTFE skates with rounded edges. While the matte UV coating in combination with the structure of holes make for an even better grip over the ergonomic mouse body. Enhancing airflow under your palm, also helps you stay comfortable.
Strong Construction & Durable Components: The shell of the mouse is thoroughly engineered to minimize weight while retaining durability.
RGB Illumination: With customizable lighting, it's easy to add your own personal touch to the M4. Choose your colour, switch between numerous LED effects and adjust the brightness or turn illumination off completely. The RGB runs around the front of the mouse up both flanks, as well as on the scroll wheel and the XTRFY logo which is subtly visible through the holes on the palm rest for non obtrusive branding.
Wireless and Wired Mode with EZcord Pro: The 1.8m Xtrfy EZcord Pro is softer, lighter and more flexible than stock braided cables, with a colour to match your mouse's design.
ARM 32-bit Microcontroller: Fast, detailed swipes require high-speed processing. The M4 is powered by an ARM 32-bit microcontroller for uncompromising speed and stability.
Dust and splash resistant: The inside of the mouse is covered in a conformal coating to protect the components against dust, splashes and LAN night mishaps.
System requirements: Windows XP and higher, Mac os 10.1 and higher. USB port required
Sensor: PixArt 3370 Optical gaming sensor
Shape: Ergonomic right-hand, adjustable
Main Switches: Kailh GM 8.0
IPS: 400
Max Acceleration: 50 G
Polling rate: 125/500/1000Hz
Glides: PTFE glides
Surface: Matte, textured
Switching: OMRON gaming switches
Profile LED backlight: 3 ZONE RGB
Connection: 2.4 GHz wireless/USB
Battery: 500 mA (up to 75 hours*)
Connector: USB-A to USB-C cable + adapter + dongle
Cable: EZcord Pro 1.8m, 71in
CPI Settings: 400-19000
Debounce: 2/4/8/12 ms
Dimension: 68mm x 120mm
Weight : 71g (excluding cable)