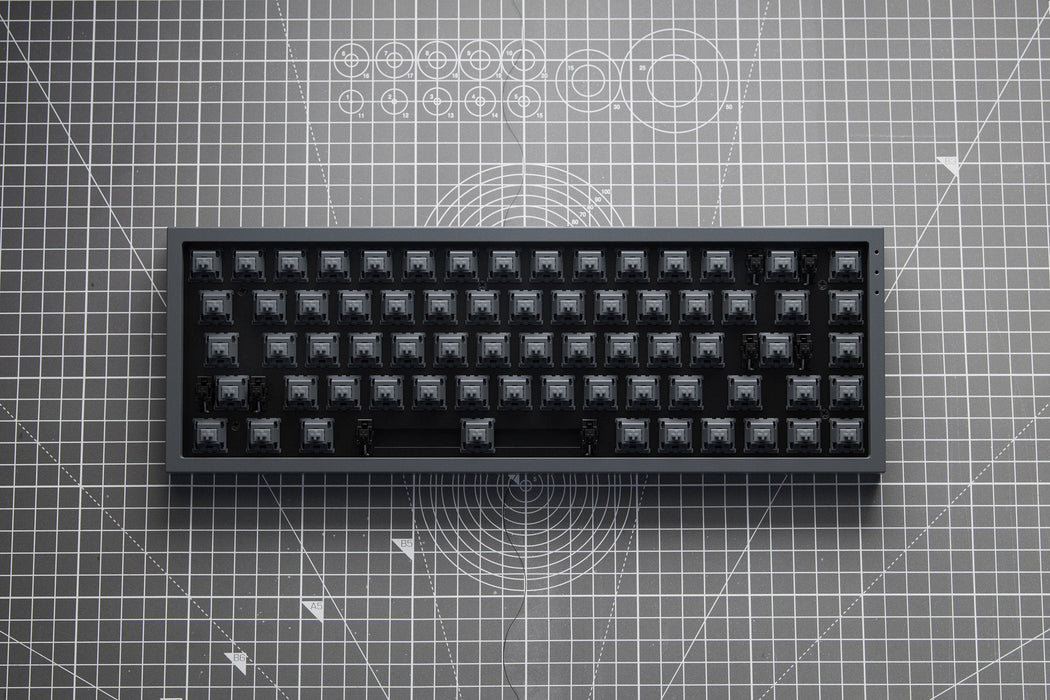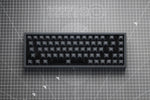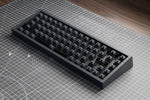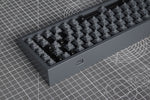 NK65 - Oblivion Edition
Sold out
Original price
$194.99 CAD
-
Original price
$194.99 CAD
$194.99 CAD
-
$194.99 CAD
Current price
$194.99 CAD
Availability:
Out of stock
Ships in 2-3 Business Days!
Original Group Buy Timeline: July 3 - August 4, 2021.
Description
The NK65 - Oblivion Edition is a standard 65% ANSI layout keyboard with a hotswap PCB. The PCB is VIA compatible with per switch RGB lighting. The switches are south facing.
This will be fully assembled and comes with custom switches. It includes a polycarbonate case, aluminum plate, PCB (same PCB as the NK65 v2 - Aluminum Edition), NK_ plate mount stabilizers, and silicone dampening material. Carrying case is also included.
The case is color is dark gray which compliments the Oblivion keyset perfectly, as well as many other keysets such as Space Cadet, Carbon, ASCII, (Modern) Dolch and many more.
The included switches are a recolor of the linear NK_ Silk Yellow switches. These will be the same weight as Yellows (63.5g) and will be factory lubricated with Krytox 205g0.
Modified Top Mount - Plate screws into top case, PCB screws into plate, and plate screws into the bottom case. This design allows for no visible screws once assembled.

Specifications

65% Standard Fixed ANSI Layout
Hotswap PCB
VIA Compatible
USB-C
Coiled USB-C cable included
Per switch RGB lighting (programmable with VIA)
Injected Molded Polycarbonate Case
NK_ Plate Mount Stabilizers
PCB/Plate Mount MX Switch Compatible (3 pin and 5 pin)
PCB Designed by yiancar
8 Degree Angle
Silicone Dampening Pad
Recolored NK_ Silk Yellow Switches (Linear 63.5g, lubed with Krytox 205g0)
Carrying Case
Vendors
Asia - Monokei
Europe- Oblotzly Industries
China - zFrontier
Oceania - DailyClack
South America - FancyCustoms
South Korea - SwagKeys
United Kingdom - proto[Typist]
United States - NovelKeys
The images shown are renders of the product and are only used to estimate the final product. The end product may vary in color from the renders as they are not guaranteed to be 100% accurate to the end product. By purchasing this product, you are agreeing to the above terms.
Are DIY and Customs Items like Keyboards/Keyboard Kits covered under warranty?

DIY items and custom items with manufacturer's defects are ONLY eligible for a refund

/replacement (if stock is available)

 

if they are:
1) Reported within 30 days,
2) Inspected by manufacturer and proven to have a manufacturer's defect (not user damage or improper use), and
3) Returned in unused condition (and not built) with manufacturer's original carton and must include all components and other items originally packaged with the product (i.e. cables, manuals, etc.).
Keyboard Lubing can damage your keyboard, and will void the warranty if used.
Custom cables, PCBs, LEDs, diodes, keyswitches, lubricant, and similar parts sold for keyboard repair or modding do not have a warranty from the manufacturer, and we cannot be held liable for damage including, but not limited to, damage from improper use, stripped screws, installation, or modification.
Any defective parts for Keyboard kits must be shipped to us at your cost and expense. Deskhero will pay for cost of return shipping of replacements for defective parts.
If you prefer to return your keyboard/key board kit to Deskhero for any reason, we are happy to accept all returns meeting the conditions listed above. Return shipping costs are the responsibility of the customer unless you have a qualifying defect and approved for an RMA.

 

Please note your order's original shipping charges are non-refundable.
Please contact our Deskhero Support Team prior to returning your item to discuss the best available options. 
Please do not combine with any group buys. Your order may be cancelled.