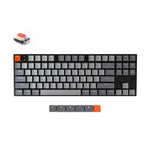 Keychron K1 - Gateron LP
Original price
$139.99 CAD
-
Original price
$149.99 CAD
$139.99 CAD
-
$149.99 CAD
Current price
$139.99 CAD
Availability:
Only 4 left!
Availability:
Only 3 left!
Availability:
Only 10 left!
Availability:
Only 10 left!
Availability:
Only 9 left!
Availability:
Only 10 left!
Keychron is the first all purpose wireless Mechanical Keyboard. This new version of the K1 model offers full compatibility with both iOS/macOS and Windows/Andriod.
The K1 features a classic TKL layout with the removal of the numberpad to free up space but still maintains the navigation and arrow keys for productivity use.
Use in

 

Wired or Wireless

 

mode featuring Bluetooth 5.1.
Curved keycaps with mixed color scheme.
Added Caps lock indicator.
Features durable

 

Gateron mechanical switches

 

available in Blue (clicky), Brown (tactile) and Red (smooth linear) to meet your typing preference.
Laser Engraved Keycaps

 

shine through ABS keycaps provide crisp legible legends in fully lit and dimly lit settings. These keycaps are made from ABS plastic and have a soft matte finish that is smooth but not slippery to the touch.
Compatible with iOS, Mac OS, Windows, and Android

 

and includes swappable keys to match the key callouts for your desired operating system. With just a slide of a button on the side panel, you can switch between the various operating systems.
Mac Layout: Many current Mac keyboards are not mechanical, Keychron is one of the few that features macOS function keys (F1 to F12) in a Mac layout with the same as conventional Mac systems.
RGB Backlighting Aluminum Body

 

- allows for colorful and crisp visibility with 4 adjustable levels, plus more than 18 different color effects. Colors and brightness can be altered to fit any mood or setting. OR-
White Backlighting Aluminum Body

 

- allows for crisp visibility and adds stability weight and an aesthetically polished look to the design.
A 18mm ultra-slim body contribute to the sleek design of K1, which enhances the aesthetics of any desktop.
Connect up to 3 Bluetooth devices

 

and switch seemlessly between them, or connect in wired mode via USB-C connection.
Long lasting 2000mAh rechargable lipolymer battery

 

provides up to 110 hours of wireless power with backlights disabled.
Detachable Cable - Includes a detachable USB-C cable for easy transporation and replacement.