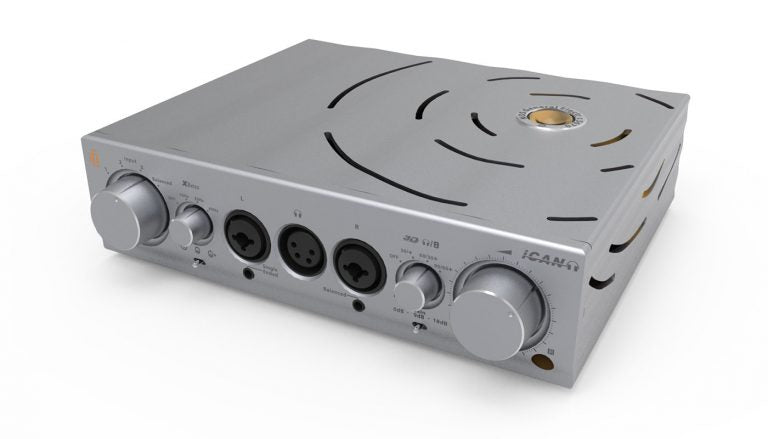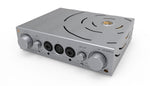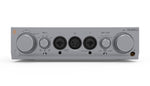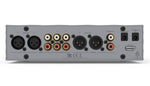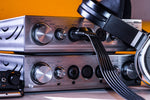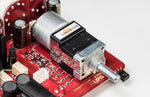 iFi PRO iCAN - Amplifier
Original price
$2,498.99 CAD
-
Original price
$2,498.99 CAD
$2,498.99 CAD
-
$2,498.99 CAD
Current price
$2,498.99 CAD
Availability:
Coming soon
Our flagship headphone amp is studio-level quality which means it's the
 

only

 

amp you'll ever need.

What more can we say about the Pro iCAN other than it's used by Professional Audio engineers?
Music to your ears.
Sennheiser? Focal? Audeze? Your classic reference headphones?  Your easy every day over ears?
No problem.
The Pro iCAN takes on all comers and enhances your music until it sounds like you have the band or orchestra playing live in your head.
The Pro iCAN is as a top-of-the-line, headphone amplifier that drives anything and everything – from CIEMs through to the most difficult to drive headphone ever made, the AKG K-1000.
Gain is adjustable from 0dB/9dB/18dB. The Pro iCAN can output more than 10V in Single-Ended mode and 20V in Balanced-mode. The 20V mode is equivalent 100W into a 40 Ohm speaker.
Power like no other. Super-powerful 14,000mW headphone output power.
A fully discrete and balanced amplifier audio circuit. It operates with full-differential internal signaling.
All the way through the circuit, there is always two separate signals of equal level but opposite polarity.
The iFi exclusive S-Balanced topology makes its debut in the flagship Pro iCAN. It delivers the maximum performance from single-ended and balanced headphones alike.
Reap the benefits of balanced, enjoy lower distortion and reduced crosstalk on headphones.
You can enjoy both the sound of Solid-State and Tubes in a single package and be able to switch in real-time. For some recordings and headphones/loudspeakers, Solid-State may sound 'more lively.' For others, Tube and Tube+ (especially Tube+) will sound more 'luxurious.' Select the one that sounds best for that particular moment, be it the recording, the mood or even the weather.
There are two tube settings; Tube and Tube+. The Tube+ position reduces overall loop-gain and thus negative feedback to the minimum. This gives a different trade-off between the tube's natural harmonics and the transient performance.
An 'Out of Head' listening experience. Our 3D Holographic® dual-analogue matrices place the artist with you in the room, not just in your headphones.
Sonically superior - richer, deeper.
XBass® analogue bass correction system corrects for the missing headphone/speaker bass response.
Gain:
0dB, 9dB and 18dB user-selectable
Frequency Response:
0.5Hz to 500kHz(-3dB)
Total Harmonic Distortion (THD, Balanced/Single-Ended, S-BAL):
Balanced
SE (S-Bal)
Solid-State:
≤0.0015%
≤0.005%
Tube:
≤0.002%
≤0.005%
Tube+:
≤0.012%
≤0.2%
Signal-to-Noise Ratio (SNR, Balanced/Single-Ended, S-BAL):
>147dB(A) / > 137dB(A)
HP Output Impedance
Balanced:
< 2 Ohm
Single-Ended, S-BAL:
< 1 Ohm
Output Power (16Ω, Balanced/Single-Ended, S-BAL):
>14,000mW / >4,800mW
Output Voltage (600Ω, Balanced/Single-Ended, S-BAL):
>23V / >11.5V
Input Voltage (Pro iCAN):
DC 9V/6.7A – 18V/3.35A
Input Voltage (iPower Plus):
AC 85 – 265V, 50/60Hz
Power Consumption:
≤ 22W idle, 50W max.
Dimensions:
213(l) x 192.5(w) x 63.3(h) mm
Weight:
1.93kg (4.3lbs)
Test conditions: Gain = 0dB, 0.775V(0dBu) with 300 Ohm load unless stated otherwise SNR Balanced re 23V, SNR SE S-BAL re. 11.5V