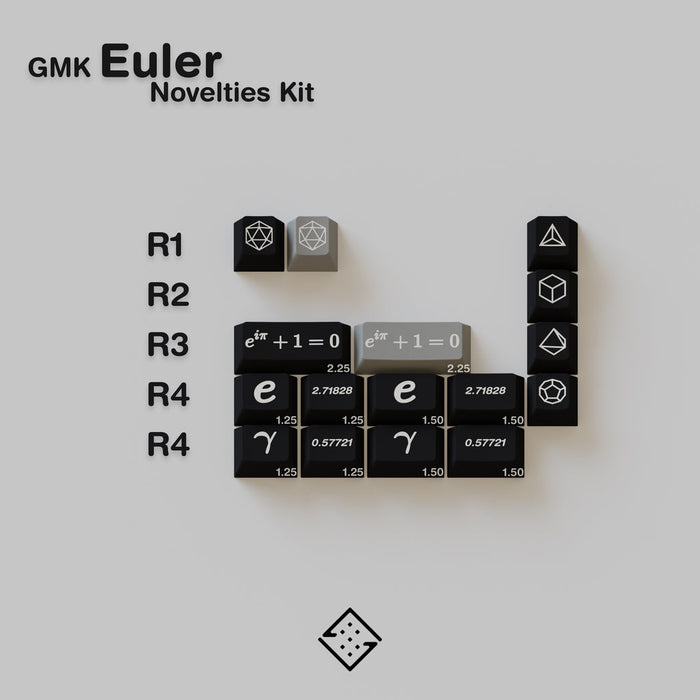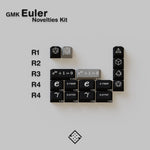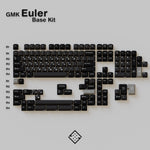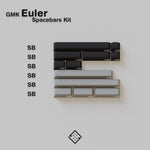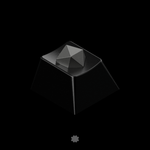 GMK Euler Keyset
Group Buy Ended
Original price
$36.00 CAD
-
Original price
$187.00 CAD
Availability:
Out of stock
Availability:
Out of stock
Availability:
Out of stock
Availability:
Out of stock
Group Buy Details
Start: December 28th 2022
ETA Shipping to retailers: Q4 2023

Grab your matching deskmat here!
"Die Mathematik ist es, die uns vor dem Trug der Sinne schützt und uns den Unterschied zwischen Schein und Wahrheit kennen lehrt." ― Leonhard Euler
This set was designed by iamtienng
With the love for math and respect for Leonhard Euler in particular, as well as the passion for Mechanical Keyboards, @iamtienng combined ideas and designed the GMK Euler Keycap set.

Colors are coordinated to create shades reminding us of a chalkboard, which is a familiar tool for mathematicians with its gray-adjacent color scheme. GMK CR and GMK WS1 are the colors of choice for Modifier Keys, for the Alphas the set features  RAL 9017 along with GMK WS1 to create a different combination next to the Modifier Keys but still remain to hold a strong connection with the main theme. Finally, a few Accent Keys with a combination of RAL 9022 and GMK WS1 representing the white of the chalks while taking advantage of GMK's largest alluring capability, which is the Double shot technology, that enables Legend colors to be brighter than the Base color.

Novelties are constituted by Euler's two most famous constants. The first one is γ (gamma) called Euler's constant (sometimes also referred to as the Euler–Mascheroni constant), which is defined as the limiting difference between the harmonic series and the natural logarithm.
The second constant e, Euler's number, is a mathematical constant approximately equal to 2.71828 which can be characterized in many ways. It is the base of the natural logarithms. With a key with a length of 2.25u, it is dedicated to represent Euler's Identity: 'The Most Beautiful Equation'.
At last, to turn ideas into keycaps in a better way, the set chose Euler characteristics for side and special keys. It is a topological invariant, a number that describes a topological space's shape or structure regardless of the way it is bent. The polyhedral in novelties are Icosahedron, Tetrahedron, Hexahedron, Octahedron and Dodecahedron.

When it comes to the Deskmat, except for the two drawings at the left and right parts of the design area, all the writing as well as the mathematical equations shown are completely handwritten without using any built fonts.

Last but not least, in collaboration with HIBI, created the idea for a three-dimensional representation of the Icosahedron perfect on their artisan.
The GMK Euler & HIBI — Icosahedron is made up of two separate parts, the Base part includes the MX Mount and is anodized in GMK CR. The Icosahedron part is decoupled and anodized in RAL 9022.
SPECIFICATIONS
Manufacturer: GMK 

GmbH

Material: Double-shot ABS
Cherry Profile 1-1-2-3-4-4
Designed by iamtienng
HIBI KEYCAP SPECIFICATIONS

Produced by HIBI
Cherry profile Escape key (row 1, 1.00 units wide)
Compatible with MX style switches
Made of aluminium, anodized, enamel infilled 
Please do not combine with other group buys. Your order may be cancelled. 
Group Buys

What is a group buy? Group Buys are a method of sale similar to a pre-order. Payments are collected ahead of time in order to submit a bulk order to a manufacturer for production. Due to this, there is often an extended timeline from the order date to when the product is shipped out, with these timelines ranging from a couple weeks to several months. In all Group Buys posted here on the site I will include on the order page an estimated timeline for production and shipment.
You missed your estimated timeline. What's going on? We provide weekly updates for all group buys, so that customers can stay informed and up to date on the progress. Many times unforeseen issues can occur, which can cause delays.
Can I get a refund for my Group Buy purchase? I changed my mind. The nature of the GB process means that funds for refunds are not available after submission of the group payment to the manufacturer. Refunds may not be available after submission of your Group Buy order. Refunds will not be available after bulk order submission to the vendor. Refunds may be made available on a case-by-case basis at our discretion.